The Leather Fanny Pack
is one of the newest blogs that I am following, written by 22 year-old Raissa who has great rocker/glam/chic style.
Definitely
check out her blog.
Anyways, The Leather Fanny Pack recently
received
a "Liebster Award" and in response she posted 11 questions for her readers to answer, so I thought I'd post my response.
A DIY you've always wanted to try?
Glass blowing; weaving; mixing drinks; sewing my own wardrobe.
2
. Does your heritage or upbringing influence your style?
I don't really think so. My heritage is pretty typical Caucasian-American: German, English, and a tiny bit Dutch and Native American. I grew up in the mid-west (well, more like mid-mid west- the middle of the country) which seems to experience a lot of weather extremes so my wardrobe consists of several bulky sweaters to get through the bitter cold of winter, as well as lots of t-shirts and shorts for the hot summers and layering pieces for in-between.
3.
What does "ugly" mean to you?
Depending on the context, ugly can mean unpleasant, repulsive, displeasing to the eye, spiteful or hateful, grave, despicable or appalling.
4. Have you ever had a paranormal experience?
Not that I can recall, but I had a crazy fear of being abducted by aliens in my tween years and as a teen I loved the movie, The Craft, and was obsessed with reading about the occult.
5.
What is your favorite article of clothing?
It's really hard to pick out just one article of clothing, but I'll say that I'm still having a love affair with my striped Banana Republic ballet scoop neck top.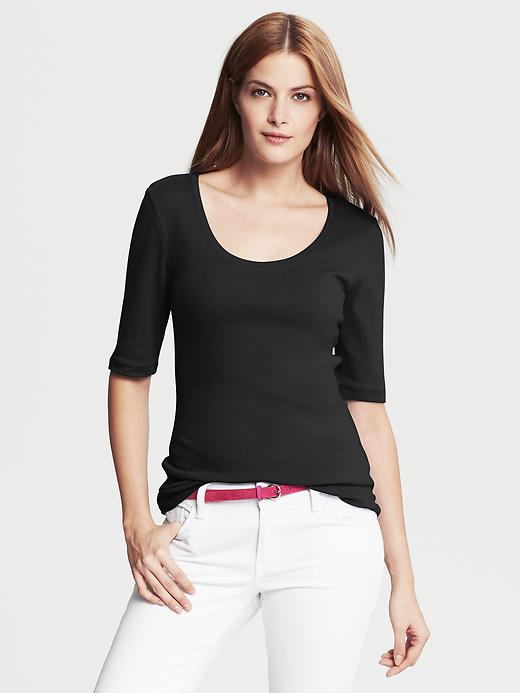 similar (Banana Republic Timeless Tee)
6.
What is your dream job?
I would love to have my own Art Therapy/ art studio and work with kids.
7.
Favorite song to sing when you're alone?
8. If you died and came back as a ghost, who would you haunt? And what would you be wearing?
I think that if I died I'd probably come back as a ghost and haunt my husband, but not in a scary way. I'd just keep up with chores around the house and hang out like I normally do, only I'd wear a dress like Keira Knightley's Daily Show Valentino dress.
9. If you could wear anything with no judgement, what would you wear?
A crop top and a full sleeve of tattoos.
10. What do you value most in a relationship (romantic or otherwise)?
Loyalty, honesty, intelligence, a sense of humor, drive to pursue their own interests.
11.
Describe yourself in at least five positive words.
Caring, Creative, Supportive, Patient, and (lately) Independent.