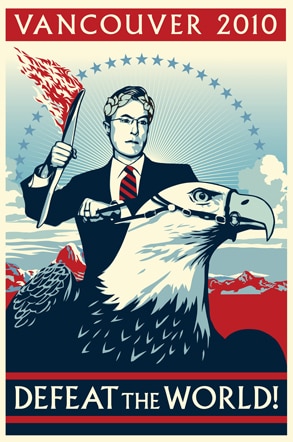 Stephen Colbert Olympic poster
Cute and Lovable Olympic Mascots
Did you watch the Winter Olympics? I did, and I'm not typically a sports watcher. Now that the winter Olympics are over and I can stop chanting "U.S.A! U.S.A!" for at least another 2 years, I am surprised to say that I will miss having it on t.v. all of the time. Here's a list of the top 10 things I am going to miss from the 2010 Olympic games.
1.
The moose hat (followed closely by Sweden's blue and yellow crocheted cap)
2.
Seeing Hannah Kearney win the 1st U.S. gold of the games for moguls.
3.
Watching Apollo Ohno speed skate in any race.
4.
Watching Shani Davis get speed skating gold.
5.
Watching Shawn White making the winter games look cool and take gold in half pipe snowboarding.
6.
Watching anyone and anything come down that icy mountain skate track thingie (I'm talking about luge, bobsled, & skeleton). That thing looked dangerous!
7.
Seeing Kim Yuna ice skate her way to gold for South Korea.
8.
Holding back tears while watching Jonnie Rochette ice skate for the bronze for Canada.
9.
Seeing Evan Lysacek skates his way to gold for USA.
10.
Watching Canada vs. USA for hockey gold in over time. I held my breath throughout the game.
I'm sure I left off some key highlights, but this comprises of what I actually saw on t.v.
And what's the #1 thing I am happy to NOT see again?
What did you think about the games? Did you have any favorite moments? Will you miss it or are you happy that it's gone? Let me know in the comments below.