Did you watch the 2011 Emmy's Sunday night on Fox? Well if you missed it, here's what you missed: Modern Family won everything in the Comedy categories (except for best actor, which went to Jim Parsons of Big Bang Theory), Mad Men won Best Drama, Breaking Bad won some things, the Daily Show took home Best Talk Show, and Kate Winslet got an Emmy for her made for TV movie. I think that pretty much sums it up. Oh! and Steve Carrell didn't get an Emmy :(
Anyway, there were tons of fabulous outfits on the red carpet last night and red seemed to be the big color of the night. Here are my picks for best and worst dressed of the night:
Best
1) Evan Rachel Wood
- this was my favorite look of the night. Very old Hollywood and super chic.
2) Claire Danes- I think that her makeup was a tad overdone, but I love her dress. Fabulous!
3) Sofia Veraga- I thought she looked gorgeous. I love the color of the dress, the fit, the styling, everything!
4) Chris Colfer- He was the best dressed boy I saw to hit the red carpet, not that I didn't expect that he would look anything less than classic.
Honorable Mention= Bring on the Quirk!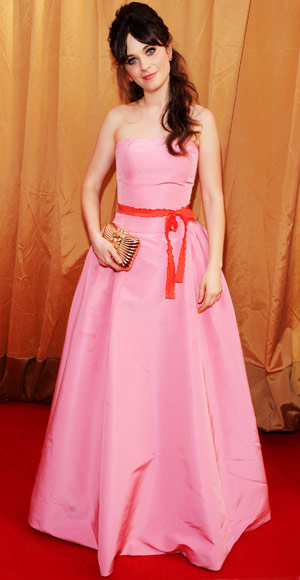 I thought Zooey Deschanel looked totally adorable in this bubble gum pink dress.
I love that Rachel Harris wore her glasses on the red carpet, but maybe I'm biased since I'm a fellow glasses wearer. I'm pretty sure I saw Christina Hendrix rocking the black rimmed glasses in the audience as well and plenty of fellows rocking the look too.
Worst
1) Paz de la Huerta- the dress were passable, the accessories, and death makeup were not.
2) Katie Holmes. I liked the color of her dress, but I didn't like the shape and her hair looked like she just crawled out of bed. I love Katie Holmes usually, but she could have done better.
3) Unknown woman. I have no words. This was just bad on so many levels.
3) Alan Cummings- His top half looked alright, the shoes were okay too, but WTF is up with those pants!!!?
Finally, I will leave you all with an image from the best part of the night- when all of the Best Comedy Actress Nominee's got onstage, held hands, and acted like the award was a beauty pageant win (BTW Melissa McCarthy took home the win and gave a lovely speech).
Who were your best/ worst dressed picks? Do you agree with my choices? What was your favorite moment? Let me know in the comments below.