Hey Everyone! According to HelloGiggles (and several other sources) today is National Read a Book Day. In honor of this occasion, I thought I would tell you about the book I've been reading: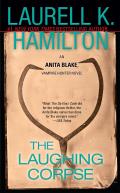 I recently started reading the Anita Blake, vampire hunter series, to tide me over while I waited for my parents to give me back my latest Sookie Stackhouse novel. I'm now on the second novel (out of at least 20 in the continuing series) and I must say that it is a great companion to reading the Sookie Stackhouse novels. It's got a strong female lead, vampires, zombies, werewolves, voo doo priestesses and necromancers. The big differences are that the novels focus around St. Louis instead of Louisiana, Anita is a necromancer and raises the dead for a living, and she's not really friendly with the vampires.
Anyway, that's what I'll be reading to day, and if you're a fan of Trueblood and the Sookie Stackhouse series, I recommend you check these out. What will you be reading today?